Employees are the most important asset
Rexroth is part of the Robert Bosch group and a specialist in drive and control technology. Entire applications for various motion solutions are created at the main office in Boxtel. Although Bosch Rexroth is a technical company with a considerable quantity of machinery and a focus on digitalisation, employees remain the company's most important asset. That is why Bosch Rexroth has been working with HumanCapitalCare since 2017 to keep its employees healthy, motivated and competent.
Bosch Rexroth wants to be a modern employer, not just with regard to working conditions and fringe benefits, but more importantly in its interaction with personnel. "Technology is of course very important in a company like ours," HR Business Partner Ronald Balmer admits. "But without our employees we would be nowhere. They are our most important asset. That is why we take good care of them and invest a lot in personal attention."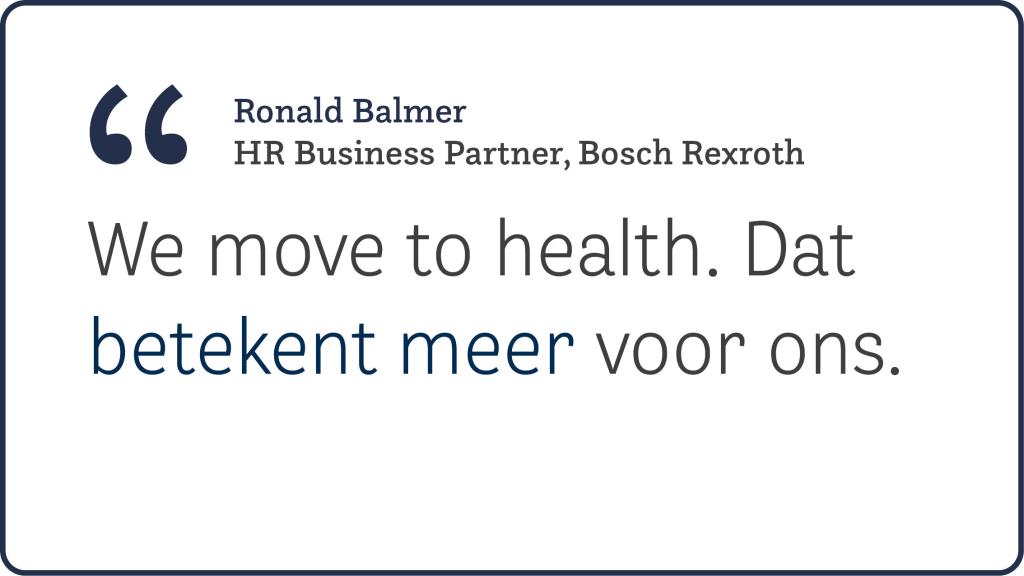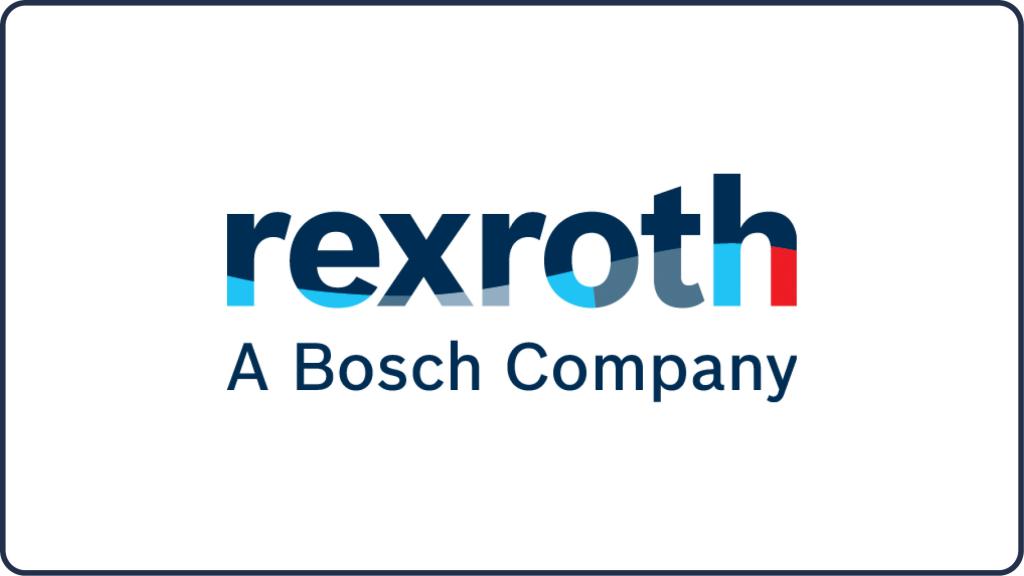 We Move to Health
The Bosch Rexroth slogan 'We Move to Win' originates from the ambition to be the best in motion solutions. The HR department has created its own version of this slogan We Move to Health for the long-term employability campaign. "Two years ago, a group of students from the Fontys Sports College were willing to think along with us about helping our employees increase their vitality. They came up with the idea of a calendar with a different theme for every month, such as 'Dealing with Stress', 'Exercise at the Work Place' and 'Sitting is the New Smoking'."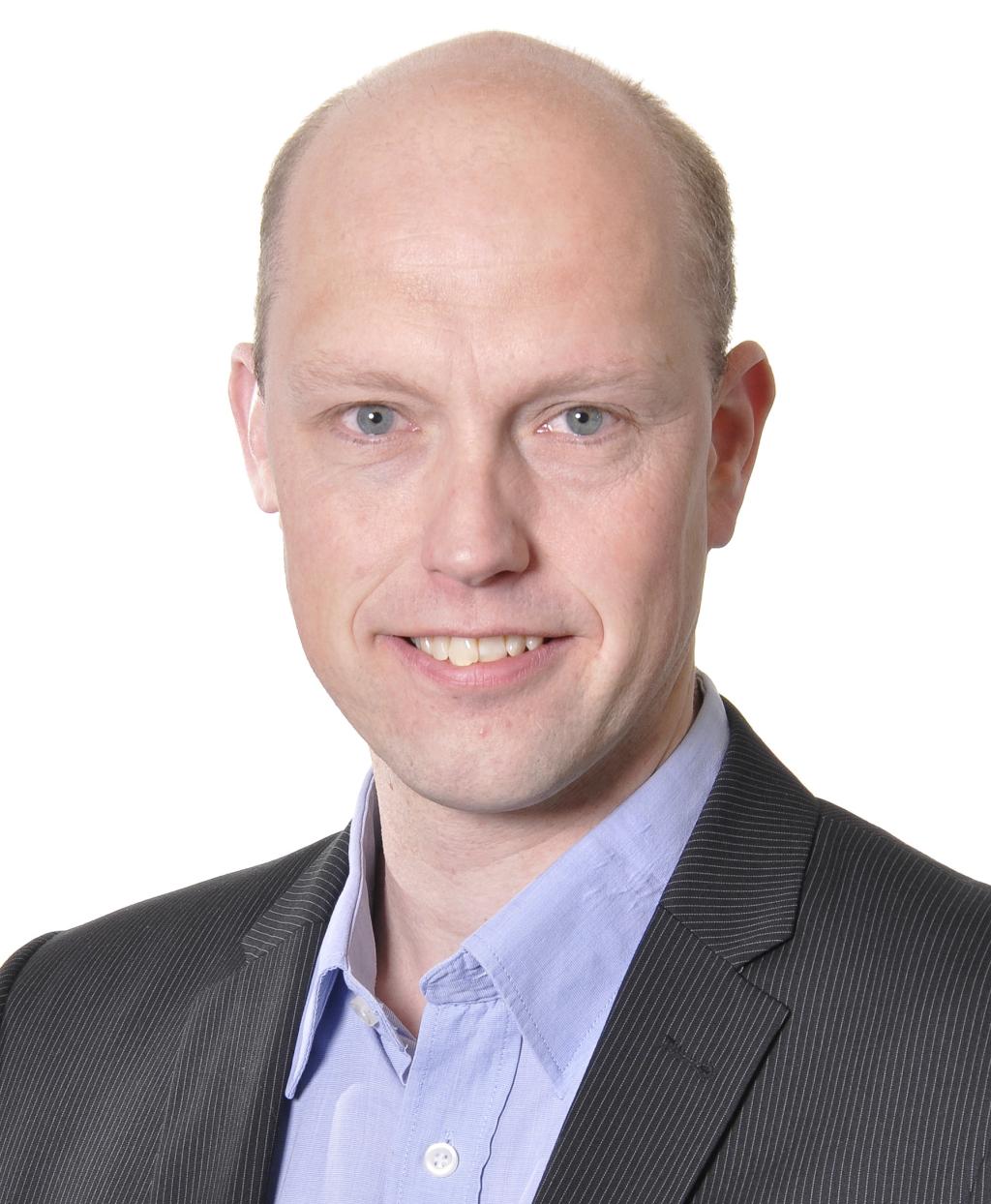 Always on the move
Ronald Balmer - HR Business Partner, Bosch Rexroth
Ever since Bosch Rexroth has been collaborating with HumanCapitalCare, the organisation has been moving continuously, according to Ronald. "And that suits us. The market in which we work is also changing continuously. Therefore, it is extremely important that our employees continue to move as well. Together with HumanCapitalCare, we brainstorm about what this culture of change means for our employees and how we can increase their willingness to innovate. This continuous brainstorming is a very important part of our collaboration. HumanCapitalCare is not a product that we purchase, they are an equal partner that helps us on all fronts and makes us stronger."
A varied range of workshops
The vitality calendar is a continuous, systematic tool to optimally facilitate health and vitality for our employees. HumanCapitalCare thinks along with us about how to do this and adapts its work activities to this. There is a lot of enthusiasm about the jointly organised workshops, which vary from virtual swimming training to mindfulness. In the framework of working from home due to Covid-19, employees can also register for workshops that connect participants with each other and teach them how to deal with loneliness."
Knowledge, awareness and ability to cope
"The collaboration with HumanCapitalCare is really paying off," according to Ronald. "It is nice to see that the enthusiasm for the workshops continues to grow. We regularly have to schedule extra dates because there are more registrations than the maximum number of participants for a session." Because Bosch Rexroth employs a diverse workforce, the company offers a wide variety of vitality activities. Besides workshops, it also stimulates its employees to choose a healthier lifestyle, for instance by taking a walk around their neighbourhoods. The company has purposely chosen to keep the offer easily accessible and accommodating for everyone in order to increase the knowledge, awareness and ability to cope among a large group of employees.
Eye-openers
The Preventive Medical Examination (PME)—the first project of HumanCapitalCare for Bosch Rexroth—also greatly contributed to gaining insights and creating awareness. "The PME immediately provided several eye-openers. For instance, it emerged that several employees suffered from undesired verbal behaviour. Together with HumanCapitalCare, we immediately set up two training sessions for managers, one to make it a subject of discussion and one to clarify how to deal with undesired behaviour in your department."
Working with hazardous substances
The Risk Inventory and Evaluation (RI&E) has also been carried out by HumanCapitalCare. "We want to make an inventory and minimise every risk that our employees are exposed to. Employees who come in contact with hazardous substances are examined periodically, physically and by means of a questionnaire. Thanks to continuous monitoring and the extensive data analysis of HumanCapitalCare we know for certain that nothing unexpected can happen."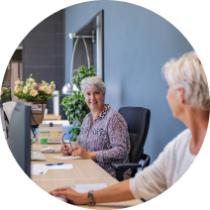 Ook op zoek naar een partner?
Bel of mail ons. We zijn graag van betekenis.
More real stories about collaborating on good employment practice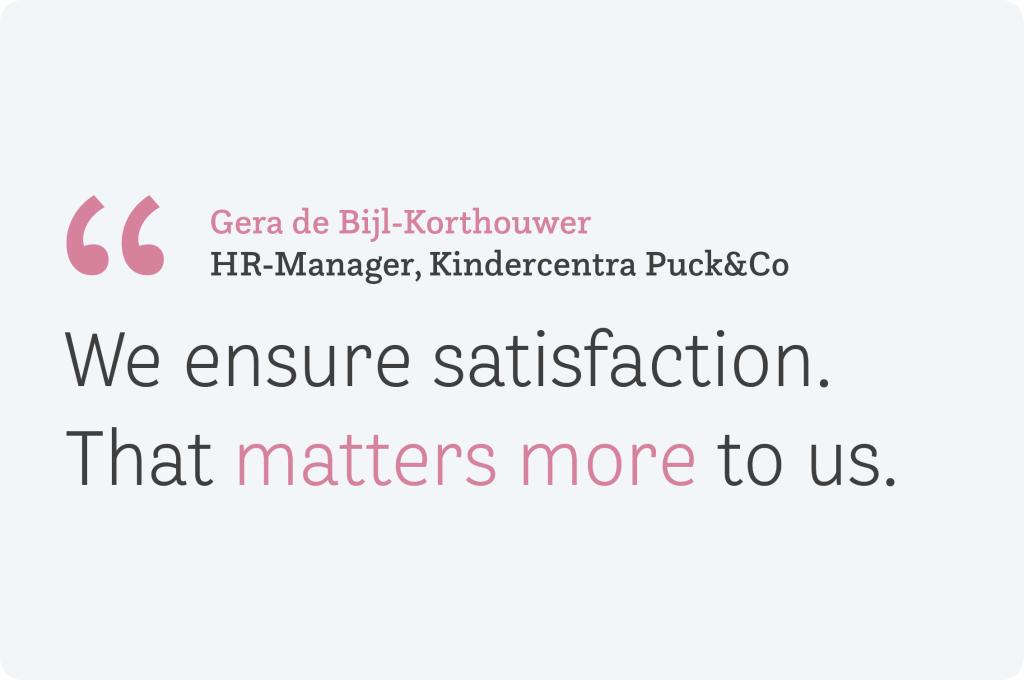 Puck & Co
Employability is very important in childcare. A familiar pedagogic employee offers children at the crèche social-emotional safety. It is also pleasant for parents to have a familiar contact person. Together with HumanCapitalCare, Children Centre Puck&Co are dedicated to vitality and long-term employability.

Unilever
Every day, 2.5 billion people consume Unilever products and 160 thousand employees worldwide work on creating these products. Unilever began working with HumanCapitalCare four years ago in order to support its 2,500 Dutch employees in staying healthy, motivated and competent.