Froukje Boot

HR Policy Advisor, Eindhoven Municipality

In de breedte kijken wat medewerkers vitaal houdt. Dat

betekent meer

.
Eindhoven Municipality focuses on mind, body and soul
The Municipality of Eindhoven is ambitious. Aside from its primary tasks, it makes plenty of investments in the development and future of the city and its residents. That's because Eindhoven has been growing for many years. More and more jobs are available and many new residents are moving to Eindhoven. These people want to enjoy living, working and recreational activities, and they want to be able to use means of transportation within the city. New housing is added, the city is becoming greener and more sustainable, and mobility gets full attention. As an employer, the Municipality of Eindhoven also has clear ambitions; to be an organisation in which people want to work and are energetic in their jobs. This includes a low level of sick leave.
The Municipality of Eindhoven invests immensely in vitality, inclusion, learning and development. "We want things to go well for our employees and we want them to feel comfortable in their workplace. If working only drains you of energy and you have no pleasure in your work, then there is the risk that this will lead to increased absenteeism. This is what we want to prevent," says Froukje Boot, HR Policy Advisor at Eindhoven Municipality.
We zochten meer dan een arbodienst en vonden dat bij HumanCapitalCare. Dat

betekent meer

voor ons.
Samenwerking in beeld
Vision: mind, body and soul
The Municipality of Eindhoven has developed a vision on vitality. This resulted in the priorities that are its focus. Froukje: "We focus on mind and body. The term mind refers to the mental fitness of our employees and the term body refers to their physical well-being. Work pressure is a topical and important theme. Our employees are extremely loyal. How do we ensure that the balance is well maintained? When we talk about physical fitness, then corona, sitting for long periods and working from home are the challenges that we face. Alongside mind and body, we also look at the soul. We focus on happiness at work and Long-term Talent Deployment (Dutch: DTI) of our employees. We therefore take a very broad view of what keeps our employees full of vitality."
Long-term Talent Deployment
Froukje: "How do we make sure that employees remain fit until their retirement date? How do we find new colleagues and how do we become an attractive employer so that they want to continue working here? These are major issues at this moment. One of our answers to this is the initiative called Long-term Talent Deployment. In doing so, we tackle issues such as: how do we make sure that employees move through the organisation and find jobs that are suitable for the phase in which the find themselves? We want to create an atmosphere in which people actively reflect on these issues and can take steps."
More than an occupational health & safety service
For years, HumanCapitalCare has been the occupational health & safety service of the Eindhoven Municipality. At the time of signing the contract two years ago, we changed course. Froukje: "We asked ourselves: within our ambitions, what do we need for our employees? What do we expect of our occupational health & safety service? Our answer was that we wanted more than an 'occupational health & safety service'." We continued the collaboration, but with a more strategic approach and more substance on a structural basis. "I work closely with Sanne van Rooij, Senior Advisor in Employment & Organisation at HumanCapitalCare. Together we prepare the annual plans and targets in which we look at all the levels: organisation, managers, teams, employees and risk groups. In order to steer and initiate actions, we have a weekly consultation session," says Froukje enthusiastically. "HumanCapitalCare offers us insight upon which we can steer. We are provided with figures and indications that emerge from consultations with medical officers and company welfare officers. They play a major role in our prioritising. This emerges – among other things – from their data, advice and knowledge about our organisation."
Safety and trust
Niels Borst is the advisor for Spatial Planning in the Municipality of Eindhoven and a member of the Works Council. Niels: "What is very important is that we know how to reach one another internally, within the collaborations and in carrying out proper dialogues, precisely at moments that it matters most and not only at fixed times. For that purpose, you must have a safe and trustworthy work environment. And this we do have." During the past two corona years, this was clearer than ever. "We maintained contact with each other, which turned out to be very resilient. That's commendable, on the part of all employees and certainly also the managers." "We benefited greatly from the advice and support from HumanCapitalCare while doing this. It is very comforting to know that with such challenges you are not alone and that you can rely on the expertise of professionals," Froukje adds.
Collaboration at all levels
Each quarterly, there is a meeting on the organisational level. An absenteeism specialist and two members of the Works Council also attend this meeting. Every six months, there is a meeting with the Executive Board and all the heads of departments. The purpose is the keep the theme mind, body and soul on the agenda. "And underlining this, is also the entire consultations structure in order to distribute this further into the organisation. Managers have an important role in this. And employees of course have their own responsibilities. Therefore, on all levels, we are looking at consultations and coordination together with our own professionals and those from HumanCapitalCare. We truly do this together and that makes a difference," concludes Froukje.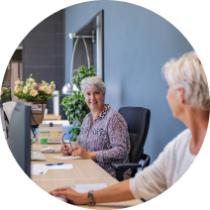 Ook aandacht voor hoofd, lijf en hart?
Samen gaan we aan de slag